Celebrate your equator crossing with a shellback certificate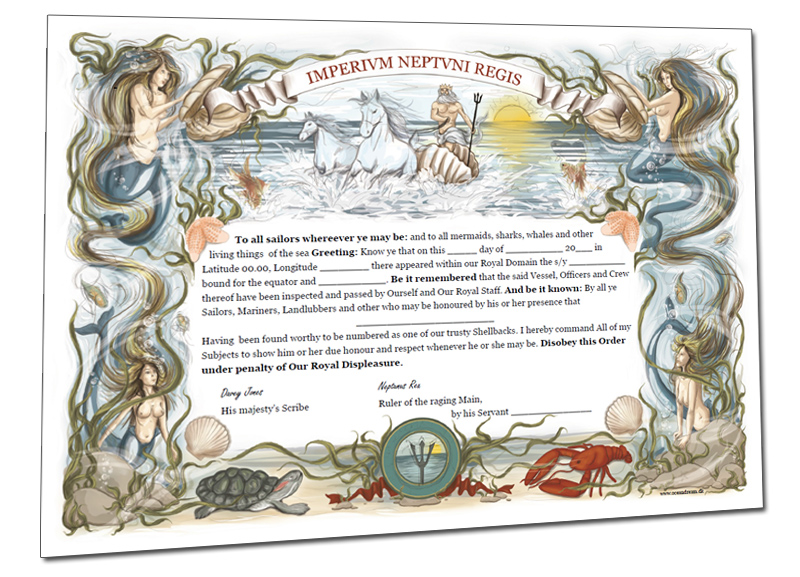 With this traditional equator crossing certificate (shellback certificate) you can give yourself and your crew a memory for life of your crossing of equator and the meeting with King Neptune.
The ceremony of crossing the line
Going from "pollywog" to "shellback" is an old maritime tradition that commemorates a sailors first crossing of the equator. It is always overseen by King Neptune. If he for some reason can not be present, the most experienced sailor aboard will lead the ceremony. The ceremony often includes some embarassing parts for the pollywog, followed by champagne or rum.
Once the ceremony is finished, the pollywogs are awarded their certificates and join the Sons of Neptune.
Use the certificate for all crew aboard your yacht
When you have bought the hand drawn certificate, you download it as a PDF which you can print yourself. You are free to use it on all your crew aboard your yacht. Just print it, and add the date, name of yacht, the longitude of the crossing and sign it. If you want, you can frame it and hang it on the wall, in your boat or somewhere else to remember that fantastic day.
Read more about the equator crossing ceremony.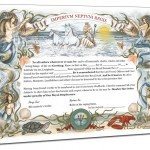 Shellback certificate
Hand drawn in classic style
Download as PDF
Print for all your crew
Only €9